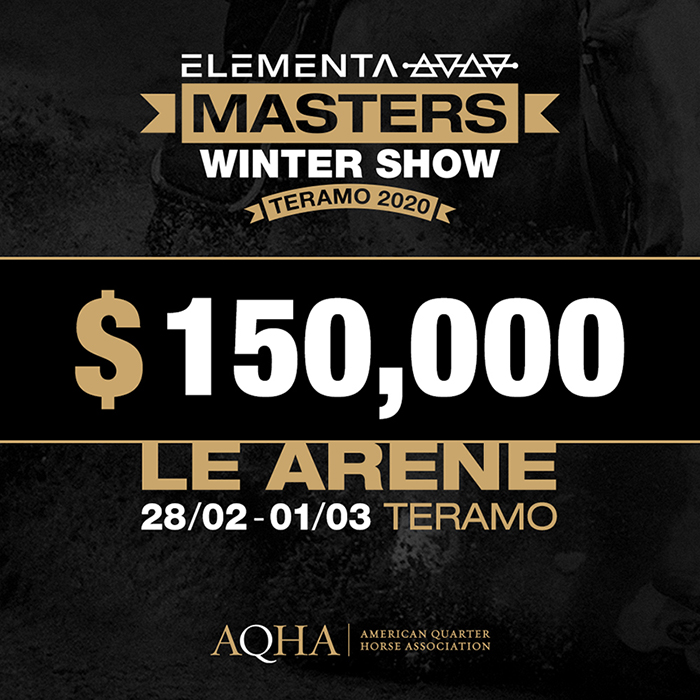 12/02/2020 – And once again Italian Elementa causes a revolution. In 2019 the NRHA approved > $ 200.000 added Elementa Masters Première attracted an unprecedented number of entries. Elementa now introduces the Elementa Masters Winter&Spring Edition. The first show out of this circuit is the $ 150,000 added Elementa Winter Show, approved by the AQHA as an AQHA Special Event. The show is scheduled for February 28 up to and including March 1 at Le Arene, located in the hills of Corropoli in the Teramo province of the Abruzzo region. Offered are a L1, L2, L3 and L4 AQHA Open Junior- and Amateur Reining class for 4- and 5-years-old horses, a L1, L2, L3 and L4 AQHA Open Senior- and Amateur Reining class for 6-years-old and older horses and qualification classes for the National Reining Championship open to horses of all ages and breed.
Though the show is not NRHA approved, the principle of the NRHA leveling system is being applied even though AQHA is not familiar with this system. Eligibility for a certain level is based on either NRHA earnings or the AQHA leveling system. Earnings do not count towards NRHA records. AQHA points can be won based on the number of Quarter Horses entering a specific class. The remaining 2 shows of the Elementa Masters Winter&Spring Edition will be scheduled for the fall of 2020. It is expected that those 2 shows will be NRHA approved.
Visit www.elementamasters.com for additional information, show conditions and the entry form.
©2020 WRS Nieuws
---