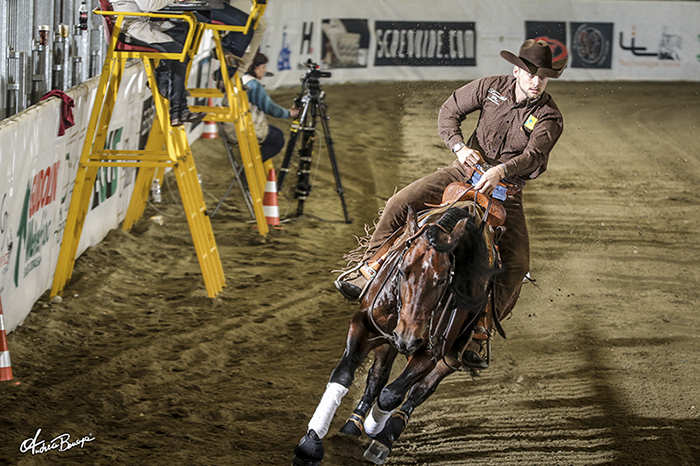 09/02/2020 – This weekend 27-year-old Italian Giovanni Masi de Vargas, aka Dido, gave a super nice and educational reining clinic at Golden Way Stables in Woubrugge (NLD), passing with flying colors. The clinic was reserved for DRHA (Dutch Reining Horse Association) 18+ riders. Initiator Jody Beenhakker expressed it as follows: "All of the associations put a lot of energy in the guidance of youth riders to bring them to a higher level, but once you have reached the age of 19 you disappear, as it were, into a hole. So we got the idea to raise money to finance a trainer coming over. We organized, among others, an auction during a DRHA show. The DRHA has supported us in every aspect of it which made it possible to organize this clinic."
The so-called gap was perfectly filled by Dido. The young Masi has more than earned his spurs in the competition, so witness, among others, the 2019 NRHA European Futurity L2 Champion title and third step on the L3 podium.
Masi was close to the participating youth in his approach, worked intensively with them and one definitely could see riders and horses making progress. All the more reason to focus on the younger generation more often.
Polish Łukasz Czechowicz, head trainer at Roleski Ranch in Poland, will be giving a clinic at GoldenWay Stables on February 15 and 16.
©2020 WRS Nieuws
Photo: Dido Masi and Bugs At Nite. Photo: Andrea Bonaga, ITA
---