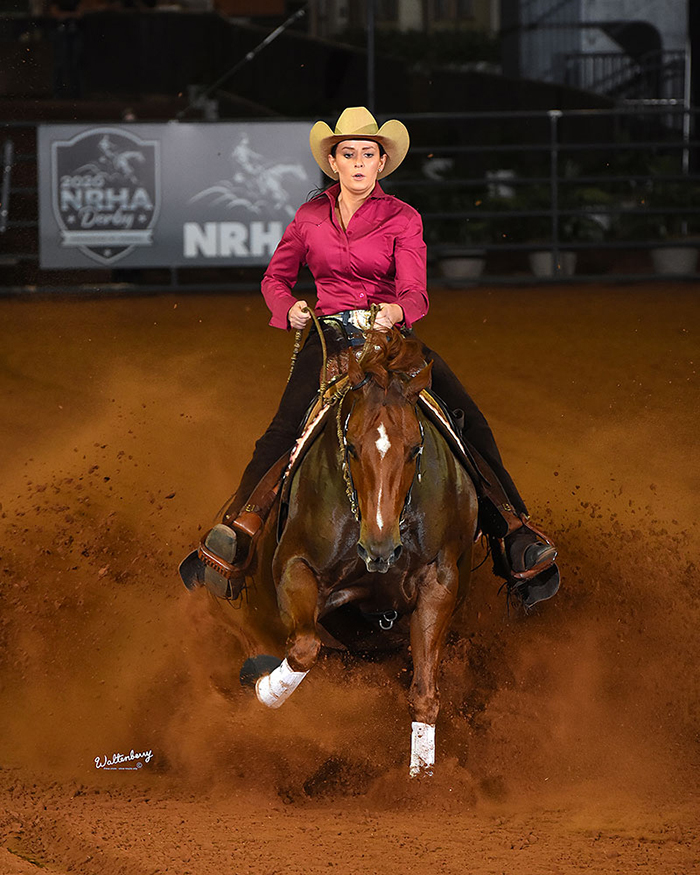 17/06/2020 – The Non Pro preliminaries of the NRHA Derby have been determined yesterday in Oklahoma City and the finalists have been determined. There will be no consolation round this year.
British Francesca Sternberg, who has been able to enter despite of the restrictions that count for visitors from abroad due to the corona pandemic, and Spooks Gotta Lena [Spooks Gotta Whiz] posted a 213,5 qualifying for both the L4-, L3- and Prime Time finals. Daughter Tabitha and Holly Trashia [Gunnatrashya] qualified for both the L4, L3-, L2- and L1 finals posting a 215,0. In L1 the pair took the lead.
In L2 Harper Conor and Money Carlo [A Sparkling Vintage] took the lead posting an 217,5.
The topscore 218,5 in L3 was posted by youth rider McKinnon Larcombe and Gunners Bar Fly [Gunner]. The pair took the lead in the youth division as well.
218,5, Happened to be the top score in L4 as well, also posted by Mandy McCutcheon with both Party Nite [Gunners Special Nite] and Tidal To The Buckles [Show Me The Buckles] and Indy Roper with Lil Patron [Lil Joe Cash] .
The finals are scheduled for Friday June 20. You can follow the action live visiting www.nrhaderby.com.
©2020 WRS Nieuws
Photo: McKinnon Larcombe and Gunners Bar Fly. Photo: Waltenberry, USA
---