Finalisten NRHA Open European Futurity staan vast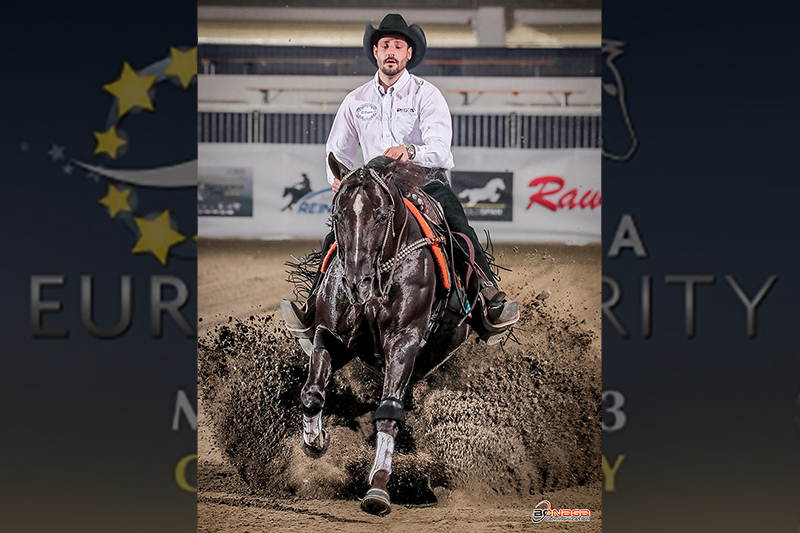 25/05/2023 – Gisteren zijn in Cremona (IT) de voorrondes van de NRHA Open European Futurity voor 4-jarigen afgerond. 21 Combinaties gaan door naar de € 186.558 added L4 finale, 16 naar de € 84.799 added L3 finale, 16 naar de € 40.703 added L2 finale en 12 naar de € 27.135 added L1 finale. Van de deelnemende Belgische combinaties kwalificeerde Ann Fonck 3 paarden voor de L4 finale: CS Redhot N Nifty [Gotta Nifty Gun] van XCS Ranch (219,0), The New Classis [All American Vintage] van Eyal Carmon (218,5) en MB Iam Giant Gunwhiz [CJ Whiz] van Pascale de Decker (217,5). Bernard Fonck kwalificeerde 2 paarden voor de L4 finale: All Money In [Ricochet Rooster] van 23 Quarter Horses (218,5) en The Spook Is Dun [Spooks Gotta Whiz] van FC American Horses Cerantula (218,0). De Italiaan Manuel Cortesi nam met July Joe Snap [Master Snapper] van Roberto Cuoghi en Eleutorio Arcese met de score 226,0 de leiding. Gilles Huyghe kwalificeerde 2 paarden voor de L3 finale: Spooky Smoking Gun [Gunnatrashya] van Jean Louis Coutrot (216,0) en Shining Gunna Girl [Colonels Shining Gun] van Juliana Szoke (215,0).
Noch Matyas Gobert (BE), noch Tom Van Eyck (BE) en Kris Hermus (NL) voldeden aan de verwachtingen en kunnen huiswaarts keren.
De finales worden zaterdag 27 mei verreden en zijn live te volgen via www.andreabonaga.it.

©2023 WRS Nieuws

Foto: Manuel Cortesi en July Joe Snap. Foto: Bonaga Communication, IT.