Cortesi and July Joe Snap excel in L4 Open Euro Futurity finals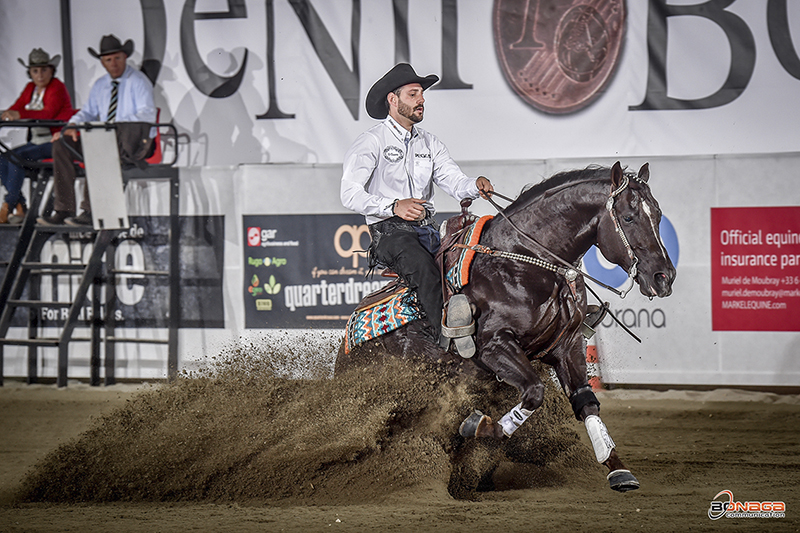 28/05/2023 – 48 combinations in total entered the NRHA European Futurity Open finals concluded yesterday in Cremona (IT). In particular the entries vying for the title in the € 186.558 added L4 divisions thrilled the audience. To start with Bernard Fonck (BEL) who put the bar with The Spook Is Dun [Spooks Gotta Whiz] owned by FC American Horses Cerantula after a powerful performance at 223,5. The leading position did not last very long though. Entry number 32, the leaders of the preliminary round Manuel Cortesi (ITA) and July Joe Snap [Master Snapper] owned by Roberto Cuoghi and Eleuterio Arcese took over. Yes, the horse did have a moment in which he lost his balance in the spins, but that was to be neglected considering the overall performance. Cortesi put the bar at 232,0 and no one else could jump that high. Being the very last entry, Ann Fonck (BEL) and MB Iam Giant Gunwhiz [CJ Whiz] owned by Pascale de Decker were still in the race for the reserve title, but posting an 223,5 Ann ended next to Bernard on step 3 of the stage: inseparable. The NRHA European Futurity L4 Open Champion title went to July Joe Snap; the Reserve Champion title with a 224,0 to West Coast Step [Sugar Little Step] owned by Quarter Dream SRL with Nico Sicuro (ITA) in the saddle The title in the € 84.799 added L3 division went to Carol Joe Cash [Lil Joe Cash] owned by Giorgio Romanotto and ridden by Francesco Pedretti (ITA posting a 220,5; reserve ho0nors were for AC Einsteins In Like [In Like Flinn] owned by Alessandro Marrapese and ridden by Massimiliano Ruggeri (ITA) posting a 218,5. Ruggeri and Einsteins In Like also claimed the € 40.703 added L2 Open Futurity Champion title. Posting a 217,0 Jeremy Ropert (FR) and Emmabeastar [ARC Gunnabeabigstar] owned by Anna Ciechanska and Stefano Angelucci (IT) and Frozen Gerda Tari [Frozen Sailor] owned by Angelucci Quarter Horses tied for second place. The Futurity Champion title in the € 27.135 added L1 division went to The Bees Knees [Colonels Shining Gun] owned by Emma Villa and ridden by Stefano Ladetto (ITA) posting a 216; reserve honors went to Elektra Step [Electric Code] owned by Samuele Varale and ridden by Maurizio Ferraris (ITA), posting a 212,5..

©2023 WRS Nieuws

Photo: July Joe Snap and Manuel Cortesi. Photo: Bonaga Communication, ITA.