Non Pro Euro Futurity finals below par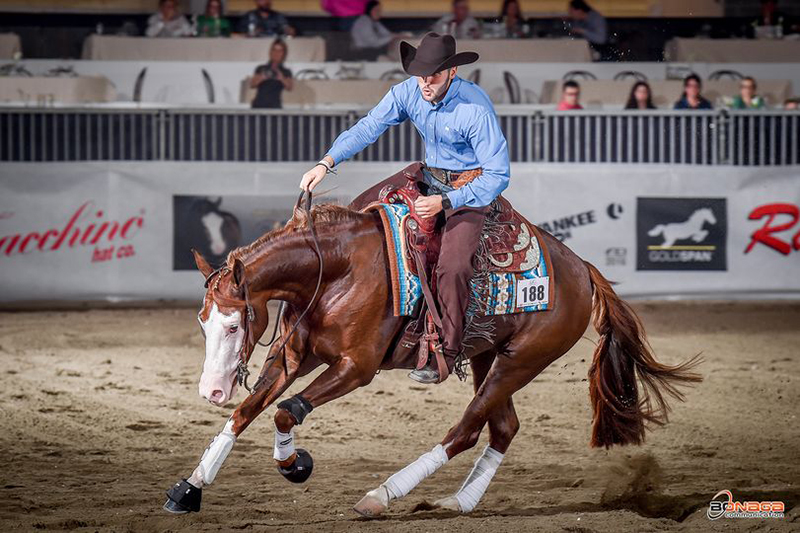 27/05/2023 – The NRHA European Non Pro Futurity finals concluded yesterday in Cremona (IT) will go into the records as below par. Only 50 percent of the 32 competing entries succeeded in marking an average score 70,0 or higher. The inferior scores were many a time rather than result of a sloppy to bad performance of the various maneuvers than of faults. The Italian finalist lived up to the expectations though. Posting a 218,5 Matteo Capello (IT) and Shya Shine [Shine Chic Shine] claimed the L4 Futurity Champion title. Posting a 216,5 both the L4 Reserve Champion- and L3 Champion title were claimed by Anthony de Lorenzis (IT) and AC Joe Spooks [Lil Joe Cash]. The L3 Reserve Champion title went to Carlo Ambrosini (IT) and Bliss Bobette San [In Like Flinn] posting a 216,0. Marking a 215,5 Dries Verschueren (BEL) and GP Sparkin N Muffin [Smart N Sparking] claimed the L2 Champion title. Elia Kompatscher (IT) and Spookly Spark [Spark N Whiz] posted a 214,4 claiming both the L2 Reserve Champion- and L1 Champion title. Posting a 213,0 the L1 Reserve Champion went to Goiele Antonio Foti (IT) and Lampo Is Comin [SDP Justice Is Coming].
The Open finals are scheduled for late this afternoon and this evening. Visit https://live.andreabonaga.it/ to follow the action live.

©2023 WRS Nieuws

Photo: Matteo Capello and Shya Shine. Photo: Bonaga Communication. ITA.