Finalists NRHA Open European Futurity determined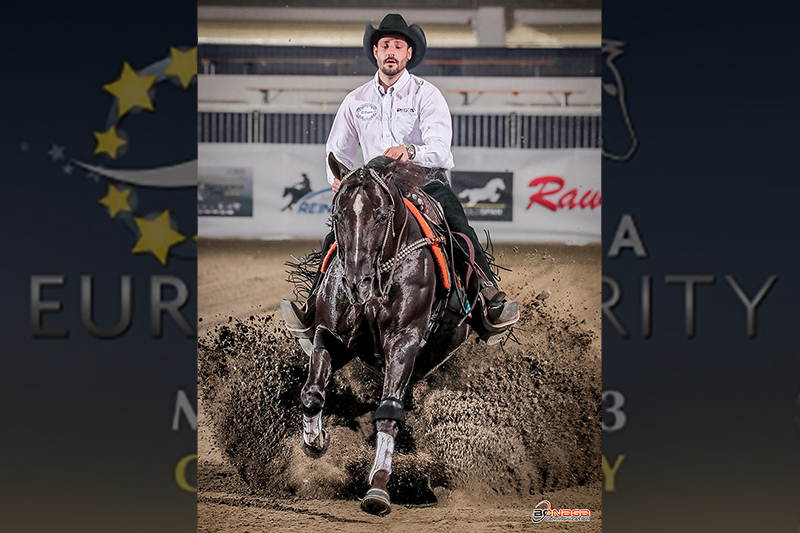 25/05/2023 – The preliminaries of the NRHA Open European Futurity for 4-year-old horses scheduled for yesterday in Cremona (ITA) have been concluded. 21 Combinations advance to the € 186.558 added L4 finals; 16 to the € 84.799) L3 finals, 16 to the € 40.703 added L2 finals and 12 to the € 27.135 added L1 finals. Of the participating Belgian entries Ann Fonck qualified 3 horses for the L4 finals: CS Redhot N Nifty [Gotta Nifty Gun] owned by XCS Ranch (219,0), The New Classis [All American Vintage] owned by Eyal Carmon (218,5) and MB Iam Giant Gunwhiz [CJ Whiz] owned by Pascale de Decker (217,5). Bernard Fonck qualified 2 horses for the L4 finals: All Money In [Ricochet Rooster] owned by 23 Quarter Horses (218,5) and The Spook Is Dun [Spooks Gotta Whiz] owned by FC American Horses Cerantula (218,0). Italian Manuel Cortesi and July Joe Snap [Master Snapper] owned by Roberto Cuoghi and Eleutorio Arcese took the lead posting a 226,0. Gilles Huyghe qualified 2 horses for the L3 finals: Spooky Smoking Gun [Gunnatrashya] owned by Jean Louis Coutrot (216,0) and Shining Gunna Girl [Colonels Shining Gun] owned by Juliana Szoke (215,0).
Neither Matyas Gobert (BEL), nor Tom Van Eyck (BEL) and Kris Hermus (NED) lived up to the expectations and can return home.
The finals are scheduled for Saturday May 27. Visit www.andreabonaga.it to follow the action live.

©2023 WRS Nieuws

Photo: Manuel Cortesi and July Joe Snap. Photo: Bonaga Communication, ITA.