Euro Futurity Non Pro finalists announced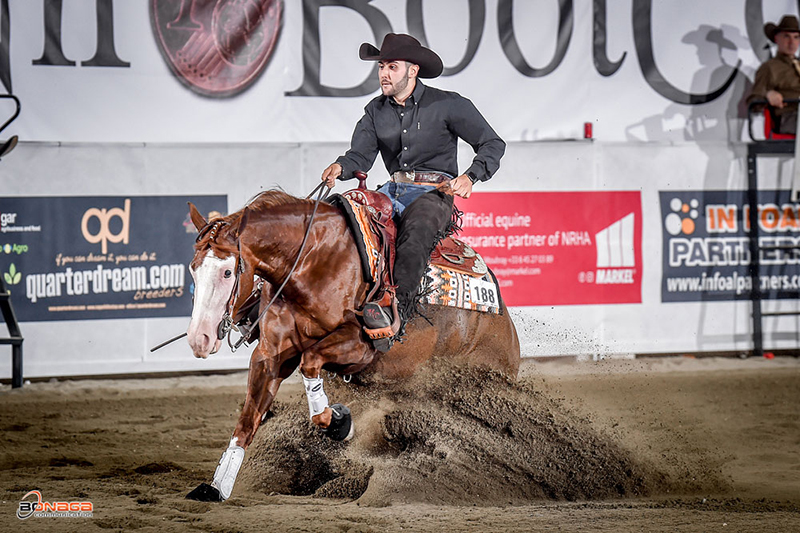 24/05/2023 – The field of entries for the NRHA European Futurity Non Pro finals has been set. 20 Entries will be vying for title in the € 79.953 added L4 division; 15 for the title in the € 36.342 L3 division; 17 for the title in the € 17.444 added L2 division and 11 for the title in the € 11.629 added L1 division. In the preliminaries concluded yesterday in Cremona (ITA) Matteo Capello (ITA) and Shya Shine [Shine Chic Shine] took the lead in L4 posting a 220,0. In both L3, L2 and L1 Rebecca Sudati (ITA) and Onefashionablegun [Colonels Shining Gun] took the lead posting a 214.5.
From the Belgian entries Emmalee Penha and I Scream Ice [SG Frozen Enterprize] qualified for the L4 finals posting a 214,5. Marking a 209,5 Dries Verschuren and GP Spook Little Step [Smart Spook] qualified for both the L4, L3 and L2 finals and marking a 209,0 Verschueren and Sparkin N Muffin [Smart N Sparkin] qualified for the L2 finals. Jody Fonck and Sparkling And Spooky [A Sparkling Vintage] posted a 211,0 qualifying for both the L3- and L2 finals.
The finals are scheduled for May 26. Visit www.andreabonaga.it to follow the action live.

©2023 WRS Nieuws

Photo: Matteo Capello and Shya Shine. Photo: Bonaga Communication, ITA.