International orientated Open NL riders scarce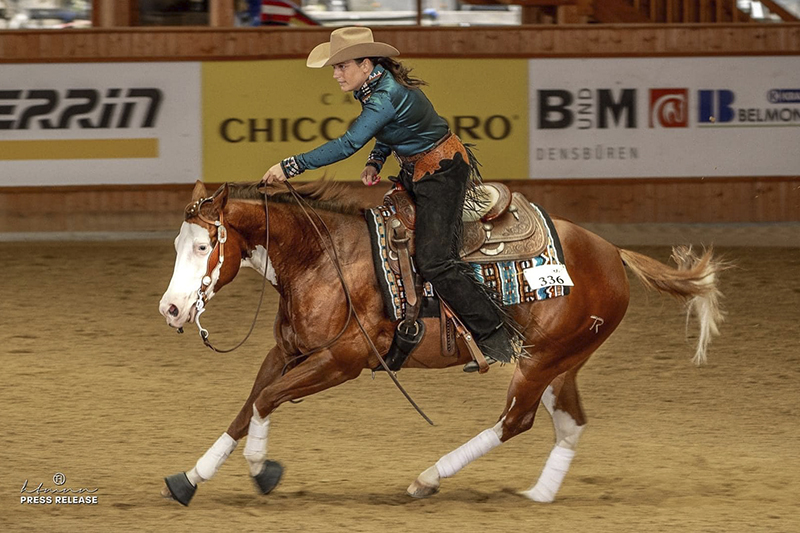 18/07/2023 – Last week the focus was on the NRHA European Affiliate Championship (EAC) scheduled in conjunction with the CS Classic at the CS Ranch in Givrins (SUI). Besides the NRHA European Futurity and -Derby, the EAC is the 3rd prestigious European NRHA event. Remarkable was the absence of Dutch entries; the number was limited to 2: Anne Grether en Rachelle Slootweg. Rachelle did not succeed at this show, but Anne sure did. Apart from Petra van Ede, Anne is one of the few Open Dutch riders seeking the challenge at international level. In Givrins Anne entered the 5-year-old mare Tr Voodoo Doll [Shiners Voodoo Dr] owned by RS Reininghorses BV. Recently the pair claimed both the Bo Ranch L2- and L4 Open Derby Champion title marking a 225,5. In Givrins the pair claimed both the CS Classic Limited- and Intermediate Open Champion title posting a 218,5. The next challenge was entering the EAC Limited- en Intermediate Open classes, in which the pair claimed the European Reserve Champion title.
If you name Anne, you name having fun, a good laugh, Wimpys Little Tejano, Give Me A Shot, a Freestyle genius and open for any challenge. It´s expected that Tr Voodoo Doll will be added to this list. Anne is established under the name RX Quarter Horses, based in Vorstenbosch.

©2023 WRS Nieuws
Photo: Anne Grether and Tr Voodoo Doll. Photo: Tom Hautmann, GER.