NRBC Non Pro finalists announced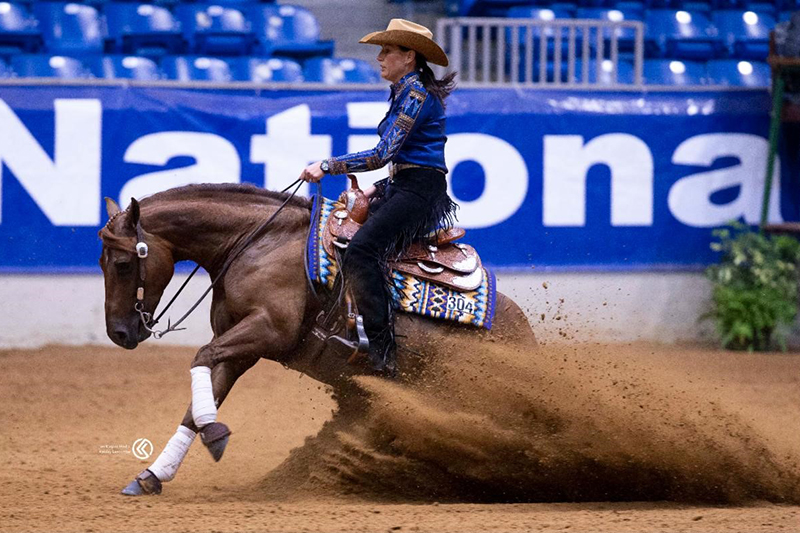 19/04/2023 – After 3 day of competition the field of finalists for the NRBC Non Pro finals scheduled for next Friday in Tulsa, Oklahoma, is set. In the $ 74.000 added L4 division Tish Fappani and the 4-year-old stallion Gunna Chic Dream [ARC Gunna Sparkya] took the lead marking a 223,0. To achieve a ticket for the finals, a 217,5 score was required. German Gina Maria Schumacher qualified 2 horses for the L4 finals. With the 7-year-old stallions Gunnastepya [Gunnatrashya] Schumacher posted a 219,5 and with the 6-year-old mare Step N Past Ya [Gunnatrashya] a 218,0.
In both the $ 21.000 added L3 Intermediate-Non Pro- and $ 10.000 added L2 Limited Non Pro division Kelsey Price and the 4-year-old mare In My Glory Days [SG Frozen Enterprize] took to lead posting a 220,5. In de $ 10.000 added L1 Non Pro division the top score 218,5 was marked by Paul Queen and the 7-year old mare Makendiamonds [Whizkey N Diamonds]. British Francesca Sternberg piloted her 7-year-old gelding Red Dirt Paleface [Pale Face Dunnit] to a 216,5, qualifying for the $ 10.000 added Prime Time Non Pro Classic final.
The finals start on Friday at 08:00 hours CDT (15:00 hours CEST) and are broadcasted live on http://equinepromotion.com/NRBC.com.

©2023 WRS Nieuws

Photo: Tish Fappani and Gunna Chic Dream. Photo: Courtesy to NRBC.