Field of NRHA Non Pro Futurity finalists is set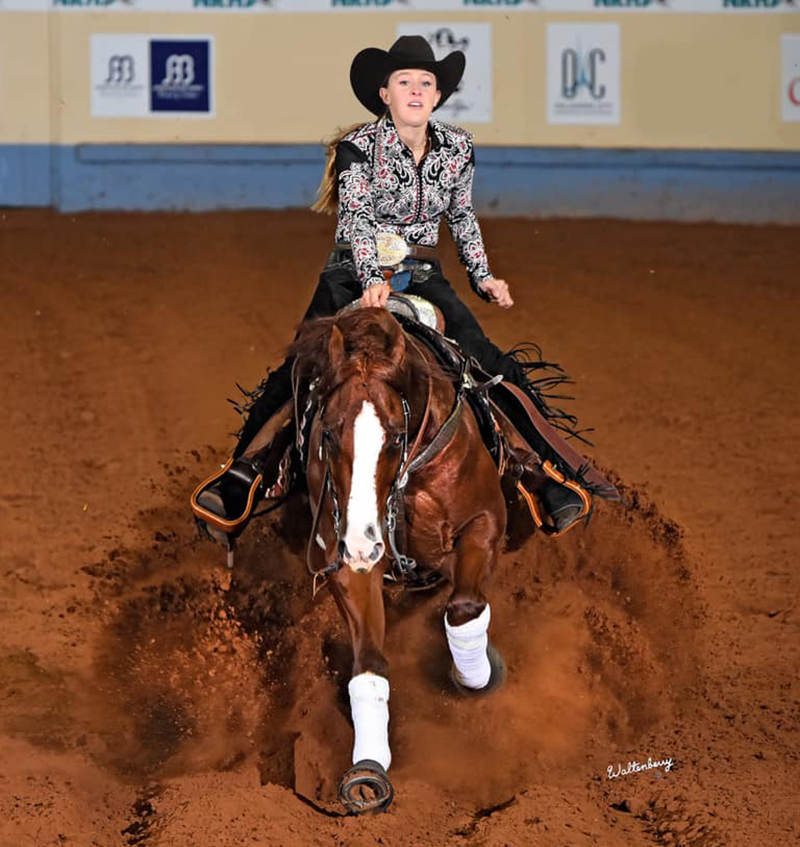 03/12/2020 – After concluding the preliminaries and the consolation round, the field of finalists for the NRHA Non Pro Futurity is set with quite a surprising outcome.
German Gina Maria Schumacher did a superb job. She qualified 3 horses for the L4 final: CS Tosmarttoberuff [Not Ruf At All] posting a 219,5; Step N Past Ya [Wimpys Little Step] posting a 216,5; and Alpha Attraction [Hang Ten Surprize] posting a 215,0. Leading in L4 were Tish Fappani and Joes Genes [Lil Joe Cash] posting a 220,0.
British Francesca Sternberg and Voodoo Gal [Shiners Voodoo Dr] made it back to both the L3- and Prime Time final posting a 212,0 in the L3- and a 213,5 in the Prime Time division. In the L3 division it was again Fappani taking the lead; in the Prime Time division it was Kathy Thompson with Savethlastdanceforme [In Like Flinn] posting a 218,5.
The finals are scheduled for Friday December 4. Visit www.nrhafuturity.com for additional information.
©2020 WRS Nieuws
Photo: Gina Maria Schumacher and Tosmarttoberuff. Photo: Waltenberry, USA